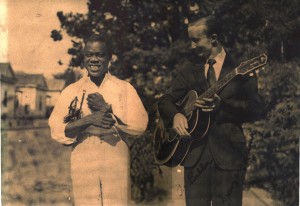 Snoozer Quinn was an early jazz banjoist and guitarist from Bogalusa, La., whose contemporaries were Eddie Lang and Lonnie Johnson. The golden years of his career, from 1925-1932, were mostly spent with territory dance bands touring throughout the South and Southwest, like the Paul English Traveling Shows, Peck's Bad Boys, the St. Louis Rhythm Kings, the Louisiana Ramblers, the Mart Britt Orchestra, and Robert E. Lee and His Confederates.
Snoozer also played with renowned musicians like Paul Whiteman, Louis Armstrong, the Dorsey brothers and many other leading musicians of the 1920s and 1930s. But he rejected the "big time" scene of New York in favor of staying in the South. Consequently, Snoozer is less well known than his peers, and certainly, he recorded less than his peers.
Snoozer was working mostly before the era of amplification and the widespread acceptance of jazz guitar as a lead instrument. Solo recordings he made for Victor Records in 1928 were never released, and have been lost to time. Just think…. The solo recordings of one of the first and best jazz guitar soloists could be sitting in a vault somewhere, gathering dust. I am always searching.
Snoozer had a wonderful life in terms of travel, adventure, good friends and people who loved him, but he did face many challenges. His head was slightly misshapen from birth, he suffered from alcoholism and tuberculosis, and he died too young, in 1949. He never married, was very shy and lived with family most of his life.  Music was where he found his joy on earth, and he was amazing according to lore. He could play three parts – bass rhythm, melodic lead and harmony – on a guitar all at once, and shake your hand while doing so.
Over time, I hope to share Snoozer's story and his music with the world.