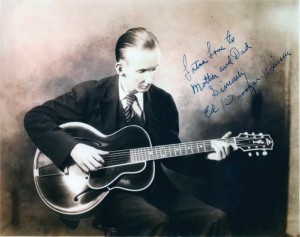 Stories of Edward "Snoozer" Quinn, an itinerant jazz guitarist from Louisiana, can be found in memoirs, diaries, interviews and oral histories of some of the earliest jazz musicians. His greatest claim to fame was a stint with the Paul Whiteman Orchestra in the late 1920s, where Snoozer earned a reputation among musicians for his incredible virtuosity.  Yet, working in an era before guitar amplification, and plagued by lifelong illness, Snoozer Quinn is most often just a footnote in the annals of jazz history.
However, jazz historians and guitar aficionados know that Snoozer Quinn had an important role in the development of jazz guitar.  He has been called a missing link between country blues guitarists like Leadbelly and Big Bill Broonzy and early jazz soloists like Eddie Lang and George Van Eps. Some prominent New Orleans jazz musicians, including banjoist/guitarist Danny Barker, considered Snoozer the greatest guitarist encountered in their lifetime.
CAREER OVERVIEW
Edward McIntosh Quinn was born in McComb, Miss. in 1907 and grew up in Bogalusa, La. He was playing violin, mandolin and guitar by age seven and was performing professionally while still a young adolescent boy, for local dances, vaudeville and minstrel shows.
After graduating from Bogalusa High School in 1924, Snoozer joined the Paul English Traveling Shows. Other bands he  participated in over the next few years include the Louisiana Ramblers, the St. Louis Rhythm Kings, Mart Britt's Sylvan Beach Orchestra, Claude Blanchard's Orchestra and Peck's Bad Boys led by pianist Peck Kelley. In this time period (1924-1928), Snoozer would have been interacting with players such as Jack Teagarden, Leon Roppolo, Leon Prima, Wingy Manone, Terry Shand, Johnny Wiggs, Drew Page, the Cajun DeCuir Brothers and others.
Snoozer was in New Orleans in 1928 when he made his break into the big time. On October 28, 1928, the Paul Whiteman Orchestra played two shows – a matinee and an evening performance – at the Saint Charles Theatre in New Orleans. A group of New Orleans musicians, including Paul Mares (of the New Orleans Rhythm Kings), Eddie Miller and Armand Hug, attended the matinee performance and invited a bunch of Whiteman's band members out to Mares' house in Metairie between shows, where an impromptu jam session took place. Frankie Trumbauer wrote in his diary that night, "I met Quinn, the only boy who has it on Eddie Lang, I believe."
Supposedly, Bix Beiderbecke and Trumbauer took Snoozer backstage later that night to show him off to Paul Whiteman. Snoozer was immediately offered a job.
As a member of the large Whiteman Orchestra, Snoozer's unamplified guitar was buried beneath the 35- or 36-piece band. But it was at the after hour jam sessions, away from the listening public, where Snoozer earned a reputation among musicians for his greatness. Accounts romanticize how people like Beiderbecke, Trumbauer, Bill Rank, Bee Palmer, Eddie Lang and Joe Venuti would pack into a small hotel room late into the night to hear Snoozer play.
Shortly after leaving Whiteman, Snoozer recorded a few sides with hillbilly singer Jimmie Davis (1931) and continued traveling and playing around Louisiana with various groups, including the Red Cap Orchestra and with Earl Crumb's band (former members of the New Orleans Owls) in New Orleans. In later years, he led his own band in Bogalusa.  Snoozer died quite young, at age 42 in 1949, after a long battle with tuberculosis.