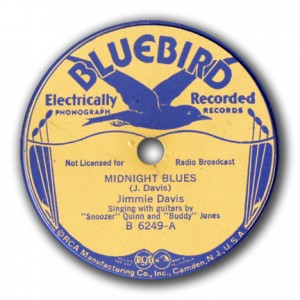 RECORDINGS
There are very few audio recordings available of Snoozer Quinn.  To modern day finger-style guitarists, the discovery of new recordings of Quinn would be, to quote Al Rose (and with respects to Jake Booze), "roughly the equivalent of telling Van Cliburn that you've found a Franz Liszt piano roll."
There are many unresolved issues in Snoozer's recording career. His known discography, compiled by Brian Rust and later added to by Tor Magnusson and Don Peak for the Jazz Archivist, reflects that "Snoozer Quinn made quite a number of recordings."  Tragically, many of these recordings were never released and are now lost – such as solo sides recorded for Victor in 1928 and a session with Bix Beiderbecke and Frankie Trumbauer recorded for Columbia in late 1928. Of the recordings that are available, Snoozer is playing as accompaniment in big orchestras or to vocalists like Bee Palmer and Jimmie Davis.
Thankfully, Johnny Wiggs, a cornetist, New Orleans public school teacher, and Snoozer's old band mate,  recorded Snoozer just before he died. These records, now on file in the Louisiana State Museum at the U.S. Mint, and available for listening here, were made in 1948 (Snoozer died in 1949) in the tuberculosis section of New Orleans Charity Hospital. Snoozer was weak and would die soon after. Though the setting was distracting and the recording equipment was amateurish, these recordings of Snoozer Quinn give us some glimpse of his talent. Say Magnusson and Peak, "Quinn's 1948 recordings are of very high class, and if he could play that well at the end of his life, and in the later stages of tuberculosis, then he must have been exceptionally good in his prime."
This entire session was eventually released as an LP record album by a small jazz label called "Fat Cat Jazz Records" out of Manassas, Va. The Legendary Snoozer Quinn with Johnny Wiggs received a rating of five stars in a record review in Down Beat in 1969.
SNOOZER QUINN                                                                  (Guitar or Banjo Solos)
Recorded in San Antonio, TX, May 21, 1928
BVE 42345-1 "Snoozer's" Blues [78]                                          Victor Unissued
BVE 42345-2 (Quinn)
BVE 42346-1 Tiger Rag [78]                                                         Victor Unissued
BVE 42346-2
BVE 42346-3
BVE 42347-1 That'll Get It – Stomp [78]                                    Victor Unissued
BVE 42347-2 (Quinn)
BVE 42348-1 Rambling Blues [78]                                              Victor Unissued
BVE 42348-2 (Quinn)
BVE 42348-3
Paul Whiteman Presents Bee Palmer with the Frank Trumbauer Orchestra
Bee Palmer, vocal, with Bix Beiderbecke, co / Bill Rank, tb / Irving Friendman, cl & as / Frankie Trumbauer, C-melody sax / Charles Strickfaden, as / Lennie Hayton, p / Snoozer Quinn, g / Min Leibrook, tu / George Marsh, d
Recorded in New York, NY, Jan. 10, 1929
W 147770-3 Don't Leave Me, Daddy [78]                                   Columbia Unissued
W 147771-3 Singin' the Blues [78]                                              Columbia Unissued

Jimmie Davis Singing with guitars by Snoozer Quinn and Buddy Jones [a] The Victor files, "Recording Book" page 8287-A read as follows: DAVIS, JIMMIE(Mr. Peer, present) (Vocal Solos with 2 Guitars ("Snoozer" Quinn & "Buddy" Jones).
Recorded in Charlotte, NC, May 26, 1931
BVE 69352-2 Hobo's Warning [78]                                             Victor Unissued BVE 69353-2 Bury Me In Old Kentucky [78]BVE
69354-2 The Gambler's Return [78]
BVE 69255-2 Wild and Reckless Hobo [78]
BVE 69356-2 The Davis Limited [78]
Jimmie Davis Singing with guitars by Snoozer Quinn, Buddy Jones, Dizzy Head
Recorded in Charlotte, NC, May 27, 1931
BVE 69357-2 She Left A Runnin' Like A Sewing Machine
BVE 69358-2 Down at the Old Country Church
BVE 69359-1 She's a Hum-Dum Dinger Part 2
BVE 69359-2 She's a Hum-Dum Dinger Part 2
BVE 69360-2 Market House Blues
BVE 69361-2 Get On Board, Aunt Susan
BVE 69362-2 Midnight Blues
Jimmie Davis Singing with guitars by Snoozer Quinn and Dizzy HeadRecorded in Charlotte, NC, May 28, 1931
BVE 69367-2 There's Evil In Ye Children Gather Round
BVE 69368-2 Pea Pickin' Papa

Snoozer Quinn – Guitar Solos / Duets with Johnny Wiggs on Cornet
Recorded in New Orleans, LA 1948
No. 3 Melancholy Baby [78]                                                          Wiggs, Inc. 2100-B
No.7 You Took Advantage of Me [78]                                          Wiggs, Inc. 2101-B
No. 10 Singing the Blues [78]                                                        Wiggs, Inc. 2101-B
No. 12 Snoozer's Telephone Blues [78]                                     Wiggs, Inc. 2100-B

The Legendary  Snoozer Quinn / with Johnny Wiggs
Fat Cat Jazz Records FCJ104 [LP] Release in 1969
Side One:
1. Nobody's Sweetheart [co JW]
2. Georgia on My Mind/Smoke Gets in Your Eyes
3. Singin' the Blues #1 [co JW]
4. Singin' the Blues #2 [co JW]
5. You Took Advantage of Me
6. Snoozer's Wanderings
Side Two:
1. Snoozer's Telephone Blues
2. Clarinet Marmalade [co JW]
3. Out of Nowhere
4. After You've Gone [co JW] 5. Lover Come Back to Me/On the Alamo
6. My Melancholy Baby [co JW]