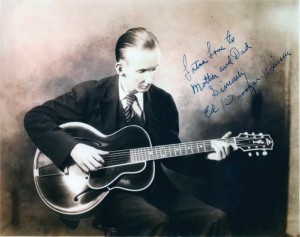 Thanks for visiting the Snoozer Quinn website. I'll be developing this site with great information about the amazing Eddie Quinn in coming months, as I fine tune the thesis I am writing for Tulane University.
And if you're a super fan of Snoozer Quinn, I hope you can come to see a presentation I'm giving during the 2010 French Quarter Fest in New Orleans. The exact time will be announced soon, but it will be April 9-11, 2010. It's a FABULOUS free festival, with the best music in the world and the BEST food in the world, in the most beautiful city in America, during a glorious time of year.
Snoozer is LONG due for some significant recognition, and at this presentation, I will have an accompanying exhibit with photographs, instruments, mementos and more.
Sincerely,
Kathryn D. Hobgood Ray
December 8, 2009